Dairy Plant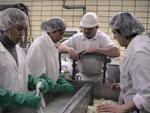 154 Call Hall
Manhattan, KS 66506
785-532-1293
785-532-5681 fax
jsp007@ksu.edu
Description
The Dairy Processing Plant moved to its current location in the northwest wing of Call Hall in 1964. The plant has 3 full time employees in the plant and up to 7 student workers. The plant is a 9,600-square foot facility equipped to make a variety of dairy products. These include: fluid milk (nonfat, reduced fat, whole, and chocolate milk); ice creams (premium and low fat); cheeses (Cheddar, Colby, Monterey Jack, Pepper Jack, and processed); and butter (salted and unsalted). A retail store is located in close proximity to the processing plant for the sale of milk, cheeses, butter, and ice creams in both bulk and individual servings. Fluid milk and ice cream are purchased by K-State Housing and Dining. Ice cream is also purchased by several Manhattan area businesses for resale.
Equipment allows for the pasteurization, homogenization, churning, condensing, and ultrafiltration of dairy foods, and is sized for small and continuous product runs, and batch systems. For most products, packaging is done in conventional containers that range in size.
Equipment is tested on a regular basis by Kansas Department of Agriculture inspectors to verify that the standards set by the Pasteurized Milk Ordinance are met. In addition to the processing equipment (see Equipment list), the Dairy Processing Plant is equipped with a CIP (Clean in Place) system for equipment cleaning.
The dairy facility can be used for the manufacture of new products, as well as to study new ingredient functionality in products. It is equipped with a laboratory where standard quality tests can be run on both raw ingredients and finished products. The plant is primarily used for the daily production of dairy foods, but can be adapted to manufacture or process other food products, such as juices or cultured dairy products. Dairy scientists can provide technical support for formulations, processing, and product evaluation.
Those interested in touring the dairy processing facility should schedule the tours by calling the plant manager.
Faculty & Staff
Unit Coordinator(s)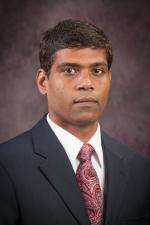 Jayendra Amamcharla
Assistant Professor
785-532-1221
220 Call Hall
jayendra@ksu.edu
Specialization:
Advanced sensing technologies for dairy and food process monitoring
Dairy foods
Rapid and alternative methods for dairy and food analysis (functional, chemical, and microbial)
Management Staff
Jared Parsons
Operations Manager- Dairy Plant
785-532-1293
Office:154 Call Hall
jsp007@ksu.edu
Support Staff
Tony Sauvage
Agricultural Technician II – Dairy Plant
785-532-1293
154 Call Hall
sauvage@ksu.edu
Jeremy Filby
Agricultural Technician II – Dairy Plant
jjf4488@ksu.edu