Special "K" Edition History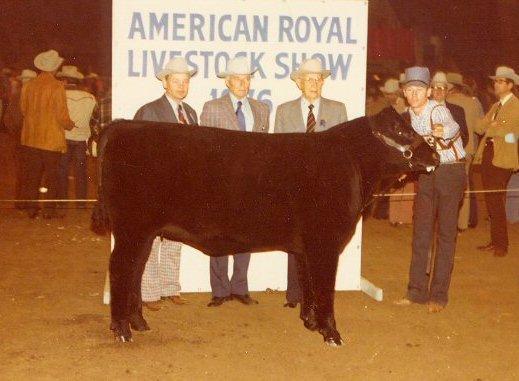 Kansas State University's purebred beef herd was established in 1881 with the purchase of an aberdeen-Angus heifer, Eyebright 4th 7131 (7446) from the Ontario Agricultural College. A Herefeord bull and heifer, Parley 30782 and Miss Beau real 7th 30781, were purchased from George Fowler, Maple Hill, KS in 1888. These two breeds made up the herd until it was disposed in 1897 due to tuberculin test reactions and an order from the Board of Regents. The regents order was the result of concern across the state that K-State's cattle should be "practical farmer's livestock" instead of purebred animals. The herd was then reestablished in 1901 with seven different breeds of beef, dairy and dual purpose cattle.
The first production sale was held in 1977. It was unique to the nation because it was a university sale and was organized and managed by students. A sale has been held each year since 1977. Early sales rotated between Angus, Simmental, and Hereford cattle and included females. In 1987, it was decided to sell all breeds in one annual bull sale.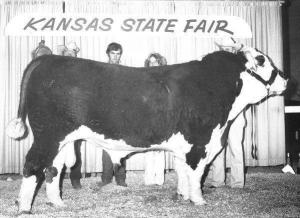 Probably K-State's most distinguished animal was the Angus heifer, Manhattan Gal. Her national reputation was the momentum behind the first Special "K" Edition sale. Manhattan Gal was the Supreme Champion Indvidual at the American Royal, North American Livestock Exposition and the National Western Stock Show. The highest selling individual in a Special "K" sale was Slammer K 04147, a Hereford bull. He was purchased in 1981 by C K Hereford Ranch, Brookville, KS, for $12,500. The highest selling female was Miss Northern K 127. She was purchased in 1977 by R & J Ranch, Briggs, TX, for $7,500.
Throughout the years, K-State has also hosted a sheep sale (1980) and a horse production sale (1984).
Kansas State University, besides continuing a rich heritage in purebred livestock production, looks forward to the challeges of the future.