Purebred Beef Unit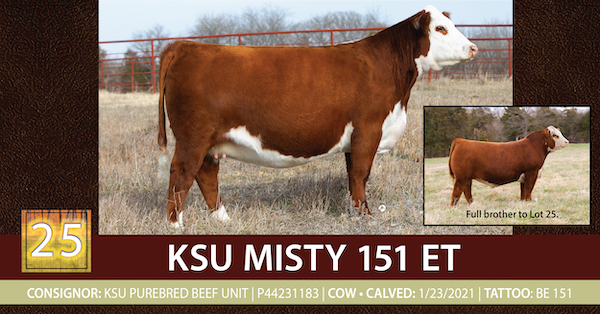 Check out our offering (Lot 25) in the Hereford Night in OKC. Selling half embryo interest in the outstanding full sister to KSU Land Grant 153, the $43,000 record high selling bull of the 2022 KSU Legacy Sale.

Selling Friday, January 6 at 6 p.m. in Oklahoma City. >> Learn More


MISSION STATEMENT
Kansas State University Purebred Beef Unit annually runs nearly 300 breeding-age purebred Angus, Hereford, and Simmental cows on 4,000 acres of native bluestem grass. Our mission is to provide undergraduate students with practical experience in breeding, feeding, management and marketing of purebred seedstock as well as give livestock selection and general animal science courses the opportunity to evaluate quality cattle.
DESCRIPTION
Each year hundreds of students utilize cattle raised at this unit. The herd also provides an opportunity to demonstrate breeding programs for genetic improvement of seedstock, using tools like genomics, artificial insemination, embryo transfer and ultrasound carcass evaluation. Applied research trials are conducted using cattle produced in this herd, such as synchronized artificial insemination, feed additive research, residual feed intake, and DNA marker research.
Cattle are also employed for teaching purposes in classes such as Livestock Sales Management, Pregnancy Diagnosis, Bovine Calving, and used for competition in the annual Little American Royal. A portion of the cattle that are produced in this herd are merchandized in the annual Legacy Bull and Female Sale held the first Friday in March. This sale is unique to the nation because it is engineered entirely by students to give them hands-on, practical experience in purebred cattle marketing.
HISTORY
Kansas State has a long history of using live animals in teaching students how to care for, breed, and market animals. In fact, the first structure on what is the current campus was a large barn to house livestock which had been provided for by the legislature of 1872. This was followed by several different barns and sheds that housed horses, dairy cattle, beef cattle, hogs, sheep and poultry. Produce from the purebred beef cattle herds were housed in a commodious stone structure which was located just north of where Weber Hall now stands. August 28, 1955, the barn caught fire and burned to the ground.
The legislature appropriated funds immediately for a replacement structure. A site off Kimball Avenue was chosen because it was on top of the hill, which would allow for excellent air movement and circulation, and the adjoining pens would have excellent drainage preventing their becoming "loblollies" during wet weather.
A new barn was completed in 1962 and was used for the maintenance of class work animals until 2017. Some of the offspring of the purebred beef herd have been fitted, shown and sold. It is fair to say that many state and national champions went through the barn. There were rooms for students to live and work at the barn. In addition, other students provide hourly labor in caring for the cattle.
New headquarters; continue the legacy
In 2017, the unit hosted a dedication and ribbon cutting for the new barns and the beginning of the next chapter for the Purebred Beef Unit. The Headquarters and Calving Center is located near the Stanley Stout Center off of Denison Avenue. The animals there will primarily be managed in pasture conditions. This location includes the calving and maternity barn, multipurpose space, office spaces and an apartment for student workers. Animal holding pens, pasture space, processing, feed storage and shop are adjacent to this facility.
The Bull and Heifer Development Center is primarily a dry lot condition and is located adjacent to the existing Beef Cattle Research Center north of Marlatt Avenue. This location includes covered feed bunks and an automated individual animal feed and water intake monitoring system situated in a dry lot condition. The facility includes animal holding pens and a processing area. The Insentec technology enables collection of individual feed and water intake records on all classes of cattle — cows, calves and yearlings —which adds to the unit's capabilities of genetic selection and research. All bulls and heifers go through the test allowing the unit to make better breeding decisions in the areas of genetic improvement, nutrition and management of beef cattle for a range of economically important traits and serve as a demonstration facility highlighting the best management practices in beef production.
Mature females are maintained northeast of town about 10 miles at the Cedar Creek Ranch headquarters. This ranch, located just off Highway 13, serves an instrumental role in the teaching aspect of our operation.


Other Information