39th Annual Bull and Female Sale
March 4, 2016 at 3:30 pm
39th Annual Bull and Female Sale
Stanley Stout Livestock Marketing Center
Manhattan, Kansas
Purebred Beef Teaching Unit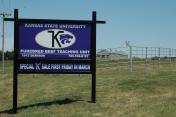 Purebred Beef
Teaching Unit
1635 Kimball Ave
Manhattan, KS 66502
Phone: 785-532-6127
Fax: 785-532-7059
MISSION STATEMENT:
Kansas State University Purebred Beef Teaching Unit annually runs nearly three hundred breeding-age purebred Angus, Hereford, and Simmental cows on 4,000 acres of native bluestem grass. Our mission is to provide undergraduate students with practical experience in breeding, feeding, management and marketing of purebred seedstock as well as give livestock selection and general animal science courses the opportunity to evaluate quality cattle.
Each year literally hundreds of students utilize cattle raised at this unit. The herd also provides an opportunity to demonstrate breeding programs for genetic improvement of seedstock, using tools like performance testing, artificial insemination, embryo transfer and ultrasound carcass evaluation. Applied research trials are conducted using cattle produced in this herd, such as cloning technology, synchronized artificial insemination, feed additive research, residual feed intake, and DNA marker research.
Cattle are also employed for teaching purposes in classes such as Livestock Sales Management, Pregnancy Diagnosis, Bovine Calving, and used for competition in the annual Little American Royal. A portion of the cattle that are produced in this herd are merchandized in the annual Legacy Bull and Female Sale held the first Friday in March. This sale is unique to the nation because it is engineered entirely by students to give them hands-on, practical experience in purebred cattle marketing.