Blakeslee, Karen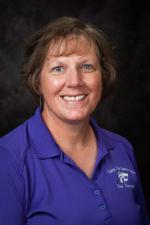 Extension Associate - Rapid Response Center
221 Call Hall
Manhattan, KS 66506
785-532-1673
785-532-3295 fax
kblakesl@k-state.edu
Rapid Response Center
Area(s) of Specialization
Food Science for Extension Agents
Education
B.S. , Kansas State University, 1986
M.S. , Kansas State University, 1997
Bio Brief
Karen Blakeslee is coordinator of the Rapid Response Center, an Extension Agent resource for Food Science. The Rapid Response Center was formed in 1995 as a resource for Kansas State University Research & Extension Agents. Resource topics included Food Science, Human Nutrition, Food Service, Textiles, Home Care and other consumer topics. Since that time, the Center has grown to be of valuable assistance to Kansas State University Extension Specialists in those areas, primarily in food science. The proven success of the Center helped to start a similar position in the Kansas State University Horticulture Department.
Karen's background includes working in ice cream manufacturing and in cereal and pasta manufacturing for almost 12 years. Karen is a native of Great Bend, Kansas.
Research
The Rapid Response Center works closely with Food Science faculty as well as Human Nutrition faculty to answer Extension Agent and consumer questions about food. Most questions are related to food safety, home food preservation, and food preparation.
The Master Food Volunteer program is also a part of the Rapid Response Center. This program helps recruit volunteers in counties or districts with a high interest in food. These volunteers are given about 40 hours of training. They, in turn, give back a minimum of 40 hours of volunteer time to help Extension Agents in any food related programming in their counties.