Aramouni, Fadi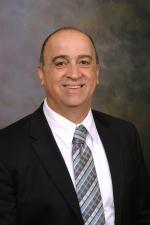 Professor
216D Call Hall
Manhattan KS 66506
785-532-1668
785-532-5681 fax
aramouni@ksu.edu
Area(s) of Specialization
Food Processing
Food Product Development
HACCP
FSMA
Education
B.S. , American University of Beirut, 1977
M.S. , American University of Beirut, 1980
Ph.D. , Louisiana State University, 1986
Bio Brief
Dr. Fadi Aramouni was born and raised in Beirut, Lebanon. He received his B.S. in Biochemistry in 1977, and his M.S. in Food Technology in 1980 from the American University of Beirut. Dr. Aramouni earned his Ph.D. in Food Science in 1986 from Louisiana State University. He joined the Kansas State University Department of Foods and Nutrition in 1989, then the Department of Animal Science and Industry in 1995. Since July 1999, his responsibilities have been 0.85 Extension/0.15 Teaching. His teaching responsibilities include "Research and Development of Food Products", "Principles of HACCP', "Advanced HACCP Principles" and "Fundamentals of Food Processing". Since June 2002, Dr. Aramouni has been a Professor and Extension Specialist with the Department of Animal Sciences and Industry and a member of the Food Science Institute.
Research
His Extension activities include:
managing a Value-Added Food Product Development Laboratory for Kansas's entrepreneurs
acting as the "Process Authority" for processors of low acid/acidified foods,
providing educational programs on Good Manufacturing Practices, Sanitation, HACCP, Recalls, and one- on-one assistance for the development and implementation of food processing programs,
supervising the activities of the Rapid Response Center staffed by an Extension Associate to provide quick answers to questions received primarily from Kansas County Family and Consumer Sciences Extension agents.
Dr. Aramouni has published many journal articles in collaboration with Thomas J. Herald, Ph.D., and Elizabeth Boyle, Ph.D.
His most recent leadership positions include:
Coordinator of the Value-Added Program for theFood Science Institute.
Chair of the 5-year Plan of Work for Post Harvest Food Safety,
Chair of the Long Term Intended Outcomes for Food Safety and Quality.
Recent honors include "Outstanding Food Scientist Award", "Professor of the Year" nominee, and "Faculty Excellence Extension Award".
Teaching
Advanced Application of HACCP Principles [FDSCI 791]
Fundamentals of Food Processing [FDSCI 305]
Principles of HACCP [FDSCI 690]
Research and Development of Food Products [FDSCI 740]
Advanced Application of HACCP Principles [FDSCI 791]
Fundamentals of Food Processing [FDSCI 305D]
Research and Development of Food Products [FDSCI 740D]
ASI Faculty
Faculty
Amamcharla, Jayendra
Aramouni, Fadi
Beyer, R. Scott
Blasi, Dale
Bormann, Jennifer (Minick)
Boyle, Elizabeth A. E.
Bradford, Barry
Breiner, Ryan
Brouk, Mike
Carson, Tim
Davis, Duane L.
DeRouchey, Joel
Douthit, Teresa
Drouillard, James S.
Faris, Brian
Farney, Jaymelynn
Fike, Karol
Fung, Daniel Y. C.
Getty, Kelly
Gonzalez, John
Goodband, Robert D.
Grieger, David
Hancock, Joe D.
Harper, Nigel
Hollis, Larry
Houser, Terry
Hulbert, Lindsey
Jaeger, John
Johnson, Sandy
Kouba, Joann M.
Lee, Charles
Mamedova, Laman
Marsden, James L.
Mendonca, Luis
Moser, Dan W.
Nelssen, Jim L.
Nichols, David A.
Nutsch, Abbey
Odde, Ken
Olson, K C
Phebus, Randall K.
Pope, Ronald V.
Purdue, Brad
Reinhardt, Christopher
Retzlaff, Deanna
Rozell, Timothy
Schaake, Scott L.
Schmidt, Karen A.
Sexten, Andrea
Smith, J. Scott
Stevenson, Jeffrey S.
Titgemeyer, Evan
Tokach, Mike
Unruh, John A.
Waggoner, Justin
Weaber, Bob