Mendonca, Luis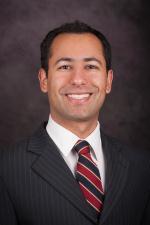 Associate Professor/Extension Specialist
125 Call Hall
Manhattan, KS 66506
785-532-2652
785-532-5681 fax
mendonca@ksu.edu
Area(s) of Specialization
Bovine Theriogenology
Dairy Herd Management
Farm Performance Evaluation
Education
D.V.M. , Universidade Estadual de Maringà, 2006, 2006
M.S. , University of Minnesota,
Bio Brief
Dr. Luís Mendonça received a D.V.M degree in 2006 at Universidade Estadual de Maringá, Brazil. In 2007 he worked in a private practice that specialized in reproductive management and technologies (i.e. embryo transfer and
in vitro
embryo production), providing services to clients across various states of Brazil and in Bolivia. In 2008 he was hired as a postgraduate researcher at the Veterinary Medicine Teaching and Research Center in Tulare, CA, where he worked in large dairy operations and was involved in different aspects of dairy production research. He obtained his M.S. degree and completed his residency in Dairy Production Medicine (2012) at the College of Veterinary Medicine, University of Minnesota. Dr. Mendonça joined the Department of Animal Sciences and Industry at Kansas State University in 2013 as a State Dairy Extension Specialist where he now has a 30% research and 70% extension appointment. His current roles and responsibilities include development of an extension and research program addressing issues facing the Kansas and U.S. dairy industry. His goal is to develop and carry out research related to immune function, health, heat abatement and reproductive management of dairy cattle.
ASI Faculty
Faculty
Amamcharla, Jayendra
Aramouni, Fadi
Beyer, R. Scott
Blasi, Dale
Bormann, Jennifer (Minick)
Boyle, Elizabeth A. E.
Bradford, Barry
Breiner, Ryan
Brouk, Mike
Carson, Tim
Davis, Duane L.
DeRouchey, Joel
Douthit, Teresa
Drouillard, James S.
Faris, Brian
Farney, Jaymelynn
Fike, Karol
Fung, Daniel Y. C.
Getty, Kelly
Gonzalez, John
Goodband, Robert D.
Grieger, David
Hancock, Joe D.
Harper, Nigel
Hollis, Larry
Houser, Terry
Hulbert, Lindsey
Jaeger, John
Johnson, Sandy
Kouba, Joann M.
Lee, Charles
Mamedova, Laman
Marsden, James L.
Mendonca, Luis
Moser, Dan W.
Nelssen, Jim L.
Nichols, David A.
Nutsch, Abbey
Odde, Ken
Olson, K C
Phebus, Randall K.
Pope, Ronald V.
Purdue, Brad
Reinhardt, Christopher
Retzlaff, Deanna
Rozell, Timothy
Schaake, Scott L.
Schmidt, Karen A.
Sexten, Andrea
Smith, J. Scott
Stevenson, Jeffrey S.
Titgemeyer, Evan
Tokach, Mike
Unruh, John A.
Waggoner, Justin
Weaber, Bob